Kindergarten

TCSS offers a Kindergarten Program following the Ministry of Education's curriculum which covers Pre-Kindergarten to K3, in the English Program. The Montessori Method delivered by native speaking teachers allows students to effectively develop their listening, speaking, reading and writing skills.

The Montessori Method is an educational approach which enhances confidence, discipline, imagination and adaptability of students with emphasis on the development of 4 aspects: emotional growth, cognitive preparation, social skills and physical coordination. It focuses on observing and enhancing students' development in various aspects, according to their age, by well-trained teaching staff. Moreover, special classes such as computer skills, physical education, music and dance are also included.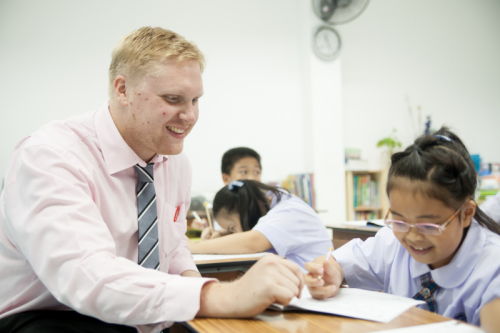 Curriculum Objectives
- To know God, the Creator
- To know one's own value
- To learn to serve
- To learn to take care of God's creation

Scope of Curriculum
1. God's Creation or "Kindergarten Experience" according to the Office of the Private Education Commission. It is composed of 6 main activities: Movement and Rhythm Activity, Circle Activity, Educational Games Activity, Free Activity, Creative Activity and Outdoor Activity. All these activities are well adapted to complement the Montessori's God's Creation Scheme to correspond to the Ministry of Education's future standardization.

2. Sensorial: to prepare and enable the children to use their 5 senses efficiently.

3. Mathematics: to learn basic mathematics: numbers, quantity, decimals, plus and minus, money, measurement, etc. through different materials, which are media based, that lead students to understand the abstract from the concrete as indicated.

4. Thai: to learn the basics and develop language competency through 4 steps: listening, speaking, reading and writing, by using educational materials.

5. Daily Life (classified as Free Activity and Creative Activity): divided into 2 groups: Daily Life Activity and Water Activity. It aims at practicing gross motor and fine motor movements, discipline and creativity.

6. English: aims at developing the English listening and speaking skills of the children and making them enjoy learning foreign languages adapted to their age.
Class Arrangements
The class arrangements are done according to the Ministry of Education's regulations as follows:
Kindergarten 1 age: 3-4 years old
Kindergarten 2 age: 4-5 years old
Kindergarten 3 age: 5-6 years old

Class Curriculum
Kindergarten 1

Children are preparing for 4 basic skills; physical, emotional, social and spiritual, cultivating love and kindness in particular. Academic subjects are not emphasized at this stage. Children will learn and play in their groups classified according to their capacity since all children are not equally ready.

Kindergarten 2
Children are more ready to experience things around them. They can reason and accept more rules. Children will be more academically developed but only through proper media. The learning pattern is still different from the Elementary Program.

Kindergarten 3
Children are fully ready but not necessarily all of them. Therefore, they still learn in groups and start to learn more about their environment, mathematics, languages, reading and writing. Still, materials are used as main learning media.
---
Primary
Objectives
1. To offer English teaching of all subjects to children following the Ministry of Education curriculum and ensure their excellent English language skills, by native speaking teachers
2. To provide learning of both curricular and extra-curricular subjects by native speaking teachers
3. To introduce children to the real world with global perspectives and long vision starting from their early years
4. To promote and support the Government's policy in elevating quality of basic education in Kindergarten and Primary levels.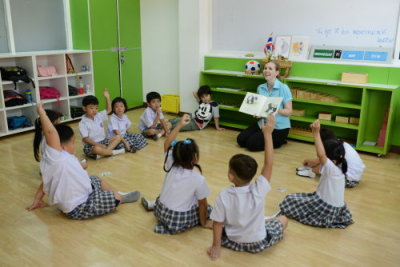 TCSS English Program is a perfect blend of teaching academic subjects in both English and Thai by native speaker teachers. 40% of the subjects are taught in English, 40% (compulsory subjects) are taught in Thai and 20% in Chinese.
It commenced in 2001 and covers Nursery through to Grade 6. After finishing Grade 6, students can further their studies in our sister school, Thai Christian School.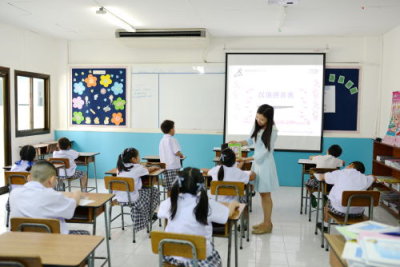 Chinese Language
At TCSS, Chinese language is taught from Nursery through to Grade 6, emphasizing on speaking and practicing to fully develop all skills: listening, speaking, reading and writing.
Each day, students study HUA YU KE BAN in simplified characters and PIN YIN as well as Chinese riddles and culture through effective materials and technology.
Moreover, special Chinese classes on Saturday are also available for students, alumni and general public who are interested to learn Chinese for their daily usage.
---